Armed Forces Radio Jubilee - Old Time Radio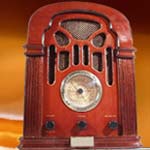 This show is A collection of outstanding big band and swing performances broadcast over the Armed Forces Radio Services network during WWII.
Listen to the incomparable Lena Horne, Bob Crosby, Kay Starr, Joe Turner, Louis Jordan, Louis Armstrong, Fats Waller, Johnny Mercer, Butterfly McQueen, the Nat King Cole Trio, Tommy Dorsey, Ray Anthony, Hedda Hopper, Billy Eckstine, and so many more legendary performers and celebrities presented and broadcast on the Armed Forces Radio Service -- all there to support the American war effort..
Host: Ernie Whitman

There are 92 shows in our collection!
Date Aired
The Delta Rhythm Boys with Lucky Millander
July 26, 1943
Louis Armstrong, Art Tatum, Fats Waller, Mills Brothers, Thelma Middleton and Barney Bigard
December 27, 1943
Cee Pee Johnson Orchestra with Ida James, Maurice Rocco, Sir Lancelot
December 20, 1943
Count Basie AFRS Studio Orchestra with Teddy Wilson, Thelma Carpenter, Jimmy Rushing, Earl Warren
December 5, 1943
Joe Turner, Ammons Johnson, Harlon Leonard Orchestra and The Delta Rhythm Boys
November 15, 1943
Nat King Cole and Ida James
November 8, 1943
All Soldier Show
November 1, 1943
Erskine Hawkins Orchestra with Eddie Anderson, Jean Rogers, May Johnson, James Mitchell, Johnny Taylor
October 25, 1943
Erskine Hawkins Orchestra with Lena Horne, Nat King Cole
October 4, 1943
Jimmie Noone, Butterfly, McQueen, Ida James
August 2, 1943
Jimmie Lunceford Orchestra, Nat King Cole Trio, Butterfly McQueen, Carmen Miranda
June 26, 1944
Jimmie Lunceford Orchestra, Maxine Sullivan, Eddie South Trio, Jerry Lester
July 3, 1944
Meade Lux Lewis, Hedda Hopper, Ernest Whitman, Butterfly McQueen Benny Carter
July 10, 1944
Jimmie Lunceford Orchestra, Joe Sullivan, Lena Horne, The Nat King Cole Trio, Butterfly McQueen
July 24, 1944
Elmer Fain Orchestra, Golden Gate Quartet, Tommy Dorsey, June Richmond, Butterfly McQueen
August 7, 1944
Count Basie Orchestra, Thelma Carpenter, Jimmy Rushing, Butterfly McQueen, Earle Warren
December 30, 1944
Dorothy Donegan, Bob Parish, International Sweethearts of Rhythm
June 5, 1944
Lena Horne, Fletcher Henderson Orchestra, The Charioteers, Eddie Green, Jimmy Baskette
May 1, 1944
Fletcher Henderson Orchestra, Delta Rhythm Boys, Dorothy Donegan Butterfly McQueen
April 24, 1944
Duke Ellington Orchestra, Art Tatum Trio, Louis Jordan His Tympani 5
March 11, 1944
Bob Crosby, Andy Kirk his Clouds of Joy, June Richmond AFRS Orchestra
February 28, 1944
Seabees
February 14, 1944
Cee Pee Johnson Orchestra, Johnny Mercer, Delta Rhythm Boys, Timmie Rogers
January 17, 1944
Lucky Millinder Orchestra, Al Casey Trio, Ethel Waters, Ted Straeter, The Gene Krupa Trio
January 6, 1945
AFRS Studio Orchestra, Duke Ellington Orchestra, Lena Horne
January 12, 1945
AND MANY MORE



Other Vintage Radio You'll Like:
Try these other Old Time Radio Shows out for size!